Does looking at your messy server rack set up give you instant anxiety? Are you sick of seeing cables and wires cluttered about without any hint of organization? Are you constantly spending time trying to identify where devices are connected? Could you effectively get to power switches in an emergency? Is your existing environment causing a hazardous condition or liability?  If so, it may be time to let a professional reorganize your IT infrastructure.
At North Shore Data Services, we're experts in server rack organization. Check out some of these before/after photos to see what our team is capable of accomplishing: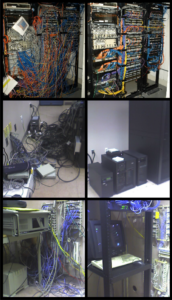 Poorly organized IT rooms can cause a variety of issues such as:
Hazardous working conditions – OSHA violations
Block of air flow and cooling
Inability to get to power switches – control devices
Difficulty when diagnosing issues
Loss of connectivity by disconnecting the wrong cable, or inadvertently pulling a cable when tracing the wiring
Pinching of light duty or fiber optic cables, causing connectivity loss
If your server room is sloppy, North Shore Data Services is here to help. Contact us today by calling 978-988-0201 or by opening a ticket with our help desk at www.ns-data.com.